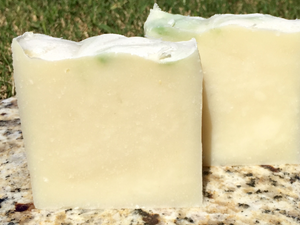 Pet Shampoo Bar with Citronella, Eucalyptus, Tea Tree Oil and Goats Milk 4oz
THERAPEUTIC USES:  The citronella essential oil and eucalyptus essential oil in this soap help to repel external parasites.  We add Tea Tree Oil to this soap to help with doggie dantruff, itchy skin, and fungal problems.  This bar is also excellent for horses, goats and other show animals that are bathed often.
FRAGRANCE:  Citronella, eucalyptus, and Tea Tree Essential Oils
INGREDIENTS: Olive Oil, Coconut Oil, Vegetable Oil, Goat's Milk, Citronella Essential Oil, Eucalyptus Essential Oil, Tea Tree Essential Oil, Sodium Hydroxide.