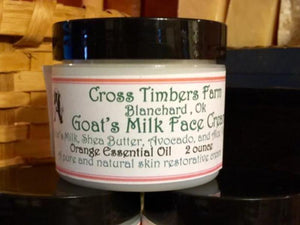 Orange Essential Oil Goat's Milk Face Cream 2oz
We like lotions made with essential oils, because they are so skin friendly.
The light fragrance of the Orange Essential Oil is gentle to the senses, and cleansing to the skin. As always, the goat's milk makes the difference.
Our Goat's Milk face Creams are extremely beneficial for all skin types, including very sensitive skin, and skin that has been damaged by wind and sun. The enzymes in Goat's Milk help restore damaged skin, and have anti-ageing properties. Our face Creams are an excellent hypoallergenic moisturizing makeup base.