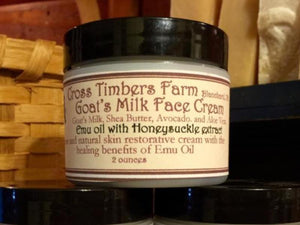 Emu Oil with Honeysuckle Extract Goat's Milk Face Cream 2oz
Our lotions are made with all natural moisturizing oils and butters blended with Aloe Vera and the nourishing protein of Goat's Milk.
This lotion has all the pure and natural ingredients of our fragrance free lotion with the lovely spring floral of honeysuckle added.
Our Goat's Milk face Creams are extremely beneficial for all skin types, including very sensitive skin, and skin that has been damaged by wind and sun. The enzymes in Goat's Milk help restore damaged skin, and have anti-ageing properties. Our face Creams are an excellent hypoallergenic moisturizing makeup base.