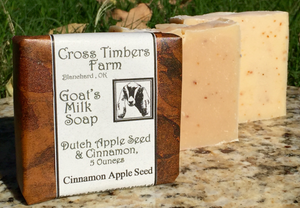 Dutch Apple Seed and Cinnamon Goats Milk Soap 4oz
This soap has a delightful blend of spice oils to provide a zesty cleansing of the skin. Flax and Apple seed are added for their antioxidant properties, vitamin E and omega 3.
Goat's Milk adds that special protein and enzyme therapy that makes our soap so beneficial and restorative. Relax, enjoy a luxurious lather with the spicy aroma of dutch apple and the calming touch of cinnamon.
Ingredients: Olea europaea (Olive) Oil, Cocosnucifera (Coconut) Oil, Squalene, (Vegetable) Oil, cinnamonum zeylanicum (Cinnamon) Essential Oil, Eugenia caryophyllata (Clove bud) Oil, Linum usitatissimum (Flax) meal, Apple Seed meal, Goat's Milk.