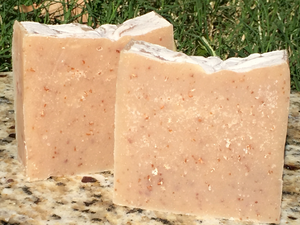 Coffee Butter, Olive Oil, Goats Milk Soap 4oz
THERAPEUTIC USES: This soap is a delightful blend of Olive Oil, Coconut Oil, and Coffee Butter. Coffee Butter is known for its antioxidant properties. It seals moisture into the skin and protects against harmful ultraviolet rays. Couple that with the great moisturizing and healing properties of Olive Oil, and you have a great healing, anti-aging product. And it gets you clean too! As always, the Goat's Milk makes the Difference.
FRAGRANCE: This soap has a warm blend of Vanilla, sandalwood, and coffee butter.
INGREDIENTS: Olive Oil, Coconut Oil, Vegetable Oil, Coffee Butter, Goat's Milk, Sodium Hydroxide, Sandal Wood and Vanilla Oil.