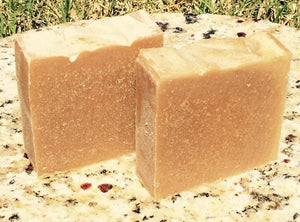 Cocoa Butter, Sandalwood and Olive Oil Goats Milk Soap 4oz
Cocoa Butter has long been valued for its moisturizing, restorative and natural sun block properties. We blend this with pure virgin olive oil, Sandalwood Ess. Oil, and the proteins and enzymes of whole Goat's Milk to create a soap that is both refreshing to the senses and nourishing to the skin
THERAPEUTIC USES: Cocoa Butter is added to this soap after saponification to create its fantastic moisturizing properties. . . and it smells SO good! Goat's Milk and Cocoa Butter, what a luscious combination.
FRAGRANCE: Vanilla oil, Sandalwood, and Cocoa Butter. Warm and soothing.
INGREDIENTS: Olive Oil, Coconut Oil, Vegetable Oil, Goat's Milk, Sodium Hydroxide, Cocoa Butter.